Version 1
Server VIP
Vote
(Total
0
Votes )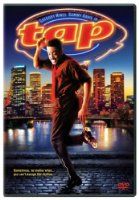 Movies:
Tap (1989)
Director:
Nick Castle
Cast:
Gregory Hines, Suzzanne Douglas, Sammy Davis Jr.
Production Co:
Beco Films, TriStar Pictures
Genres:
Comedy, Drama, Music
Runtime:
111 min
Country:
USA
Release Date:
1989
Max Washington has just been released from prison after serving time for burglary. He returns to his old hangout, a hoofer club. (Tap dancer club). His old girl friend, Amy, who still works at the club as a Tap instructor, is less than thrilled to see him. Her father, Little Mo, is happy to see him, because he has plans for a show involving Max. In addition, Max's old partners in crime have another job they want him to do...